September 9th, 2014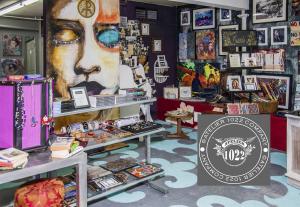 We have opened the coolest living room in town. Our new ATELIER 1022 Concept Store (which occupies about half of the gallery) plus my little studio, is our new playground for friends, family and fans. Our polyglot bunch reunites here at least once a months (mostly on the second Saturday of each month) to enjoy the eclectic living space, silent films, an open art-bar, music and "deceptively intellectual" gossip, among others. Become our friend on Facebook, and find out about events and exhibitions - page: ATELIER1022.
September 9th, 2014
ATELIER 1002 was the very proud host of the indie movie private screening USTUROI, or, in translation GARLIC. This heart-felt comedy is the work of friends of ATELIER 1022, and additional details can be found on imdb under this link http://www.imdb.com/title/tt3627572/?ref_=fn_al_tt_1.

Here is my review of this gem:
"After a private viewing the Romanian movie "Usturoi" (Garlic) I just wanted everyone to see it. Generosity and hospitality are ingrained in the country's traditions, a place where a melting pot of nationalities have survived together for centuries. The makers of this gem captured the essence of the Romanian and Roma spirit, with lovely sarcasm, sharp images and rhythms, and a superb cast of almost entirely amateur actors. Good - as in good-hearted - comedies are rare, and the wit and charm of this movie has a truly global appeal. Like Gadjo Dilo before it, it exploits the boundless and unedited way of expression of the modern gypsy, to which a good dose of match-making-family-feud is added, reminiscent of My Big Fat Greek Wedding and the likes. "Usturoi" is for everyone who still believes in the human race. It will put a smile on your face."